Ahhh Dear friends - here we are on the hump of the week - with the great slide to the weekend!! Not very much going on here except a slight warm wave. I did want to address the queries about the piece I posted about yesterday. It is from a chart - a very old chart I got off of eBay. It is a Native American subject - I had been looking high and low for a NA design - as most of them out there just do not do it for me. When I saw this one I really liked it and now here I am stitching it up. I can't remember the name - I will post it tomorrow. Didn't get much stitching at all done last night so no stitchy snaps this morning. I spent a good deal of time going through my stash binders looking for inspiration for some up coming exchanges - a think I have picked a few - now to narrow them down.

I also spent a good deal of the evening polishing my silver- usually I haul out the big pieces that I keep wrapped up and stored every 2 or 3 months for a good polish to keep them in top shine. I really do enjoy polishing silver - like ironing there is such a great since of accomplishment with the end product.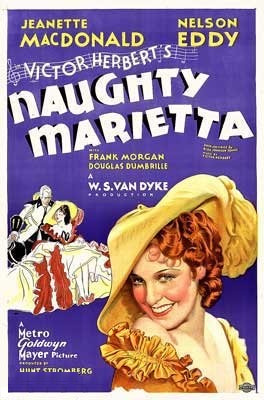 The flicker last night was "
Naughty Marietta
" - 1935 - the first pairing of Jeanette McDonald and Nelson Eddy - Americas Sweethearts. The cast included Elsa Lanchester and Frank Morgan. Basically the plot revolves around a French Princess the runs away from an arranged marriage in France to the wilderness of New Orleans circa 1750. If you just enjoy the film for what it is - a singing confection - it is lots of fun.
Thank you once again for stopping by!!
Take care,
edgar