Gentle Readers and Dear Friends the week has wound down and the weekend is here - woo hoo!!! Nothing special planned, but just knowing that there are two lovely days ahead is super!!
__________
Something you might not know about me and that I will share today is I enjoy baking - yes, that's right I do love to cook and bake things - you might have figured that out from a few of my prior posts. Something you really might not know - a thing I buy every year for as long as I can remember - as soon as I see one of these....
.... in the Fall I snap it up and just start thinking/dreaming of Christmas baking and what I want to make. It doesn't have to be Better Homes and Gardens - it just has to be a new big thick magazine of Christmas Cookies!! I have a pile of them I keep in a box I haul out every now and then during the year when I need a "shot of Christmas." This issue has some pretty tasty looking treats and I will certainly enjoy the baking and will let you know what works and what doesn't as I make my way through different recipes.
__________
Now, on to some films I think are pretty good and you might enjoy...... first up "
If you Could Only Cook
" - 1935 - starring Jean Arthur and Herbert Marshall, Leo Carillo and Lionel Stander.
This really delightful film
is another overlooked, underplayed outing for the marvelous Jean Arthur. It combines the trademark cracked voice with her razor wit in a hilarious screwball scenario of a homeless gourmet cook and butler who become employed by a gangster.
The second film - "Fury" - 1936 - starring Sylvia Sidney and Spencer Tracy

Based on the story "Mob Rule" by Norman Krasna. Joe Wilson and Katherine Grant are in love, but he doesn't have enough money for them to get married. So Katherine moves across the country to make money. Joe eventually follows but is mistaken for a criminal and is thrown in jail. Through the course of the movie, Fritz Lang shows us how a decent and once civilized man can become a ruthless and bitter man. A strong movie with some superior acting - that all sort of works out in the end.
The next film is a cute fluff piece I had not heard of - "
The Rage of Paris
" - 1938 - starring Danielle Darrieux, Douglas Fairbanks Jr, Mischa Auer and Helen Broderick.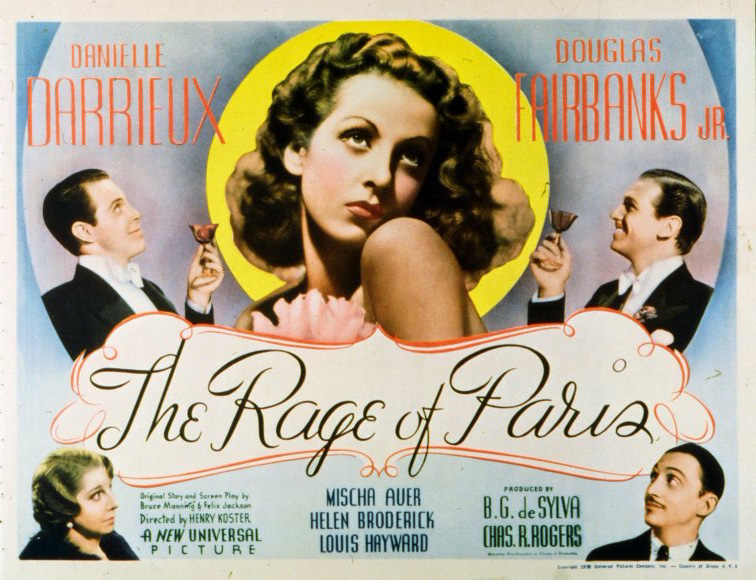 From IMDB "Nicole has no job and is several weeks behind with her rent. Her solution to her problem is to try and snare a rich husband. Enlisting the help of her friend Gloria and the maitre'd at a ritzy New York City hotel, the trio plot to have Gloria catch the eye of Bill Duncan, a handsome millionaire staying at the hotel. The plan works and the two quickly become engaged. Nicole's plan may be thwarted by Bill's friend, Jim Trevor, who's met Nicole before and sees through her plot." Big bucks where spent of this film - Gowns by Vera West and set design by Russell Gausman - totally worth a look - at 78 minutes it moves along quickly.
The last film today is a propaganda film from WWII - and once again you know how I love my WWII films. The film is called "
This Above All
" - 1942 - starring Tyrone Power and Joan Fontaine -
In a nutshell - Aristocratic Prudence Cathaway, played by Fontaine, shocks her family by enlisting in the WAFs. After enlisting, a fellow WAF sets her up on a blind date with handsome, but moody, Clive Briggs, played by Power. Prudence learns Clive is a deserter, but still loves him and senses he'll eventually prove himself a patriot. A good film with two top notch actors looking their top notch best - even during the Blitz!! The film won an Oscar for Art Direction and you can see why in the sets and cinematography - all beautiful!!
There you go - 4 films worth a look!!
__________
Another week wrapped up - thanks for stopping by - do come again!
Take care,
edgar