GR&DF I do thank you for your kind comments and for your interest in my opinion about the Oscars... but you know me - I would rather walk on my tongue than speak ill of the ignorant or foolish.... I guess I can worry about that tomorrow - today lets dish about the very expensive gowns that made us either cringe or say how lovely!!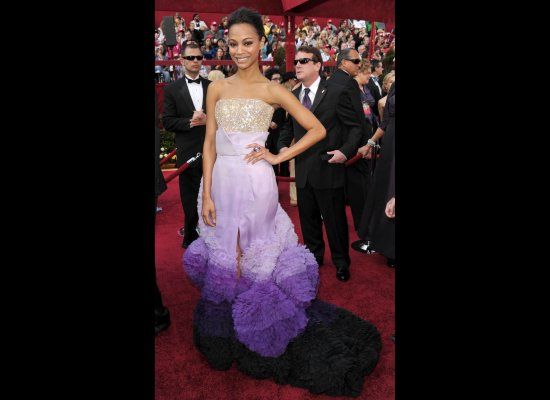 I think the worst dress of the evening was the Givenchy gown worn by Zoe Saldana - too purple, too ruffled, too much - and the pink Galliano gown worn by Charlize Theron was quite odd - what were those bosom fabric petals or swirly bunches on her chest??? I will leave the evening at that -
Yesterday afternoon the weather was so odd - bright and sunny but cold, then dark and rainy that instantly turned to hail - this happened on two occasions in less than an hour - here are some snaps...
looking west towards Twin Peaks and Sutro tower - these clouds built up and up and turned very ominously dark and black...
looking east towards the Bay Bridge and downtown SF - this was during the hail when we were getting rainbowed....
and the the sun broke through and the storm pushed out as quickly as it had come - moving east over Oakland and the central Valley - but we kept the rainbow for a long time with all the residual water in the air.
Last night the stitching was sort of not good - I decided I didn't like the Easter piece I had started last week and had worked on so I tossed it and started something I think will be much better. Sometimes you just gotta throw in the towel and make a new start. I have about 6 days to get it together so I will have to concentrate on this piece this week.
There have been quite a few flickers over the past few days - lest start off with a great Depression era film - "
Prosperity
" - 1932 - starring Marie Dressler and Polly Moran. A feel good film about the integrity of the banking system in a small town. A short film that showcases Marie Dressler at her best and quirkiest. This is shown on TCM often, if you get the chance you should try and catch it. Next up is "
What Price Glory
" - 1952 - starring James Cagney an Dan Dailey. A WWI film about two Marines in love with the same vivacious French coquette. Another war flick - you know me and my war films - was "
The Hunters
" - 1958 - starring Robert Mitchum, Robert Wagner and Richard Egan. A really good film about the "forgotten war" - the Korean War. - Robert Mitchum plays a WWII air ace who is now in charge of some rather cocky new airmen flying fighter jets. The films high points are the air battles -with some really great aerial photography. The last film is "
Love me or Leave me
" - 1955 - starring Doris Day and James Cagney. The film is the fictionalized version of the rise of
Ruth Etting
and the stormy relationship she had with her small time gangster "manager" then husband Martin Snyder. I have seen this film many times and always enjoy it. Doris sings some great numbers and James is great as the gangster!!
There you go sports fans. Thank you so much for stopping by and for your comments!!!
Take care,
edgar