Gentle Readers and Dear Friends thanks again for stopping by - I'm so glad you did!!
There's not been too much going on around the old hacienda lately. I have been stitching a bit on ATS, nothing really big just a bit here and there. I am getting the itch to start something new and really Hallowe'en and I've got it narrowed down to a few things.... just not sure which one to start, yet!!
If you've not seen the November Cottage over at CCN here's look....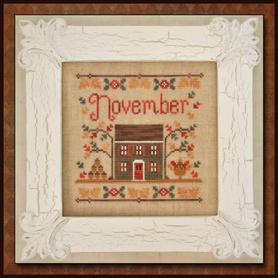 (Picture of November Cottage from the CCN Website)

It is really charming and so Fallish - I'm salivating to get my greedy mits on it!!! I am loving that turkey and all those acorns!!! Bravo Nikki!!!!!!
_______________
My crazy Christmas Cactus is at it again... all blooming and budding and it will be lovely for Hallowe'en, but probably not a bloom in sight at Christmas..... here's a snap...
I guess it's the change in light that triggers this monster... my little red one is also blooming away.
____________
My HOE Hallowe'en Exchange got into the outgoing mail this morning so I'll be able to show a few snaps of that as soon as it arrives.
That's about it for today sports fans. Do drop by again!!
Take care,
edgar