GR&DF nothing much going on but the rent. Still stitching away on Deb's RR, but I haven't gotten a snap yet, maybe tomorrow.
So lets talk film - there are some films from the past few days that are worth mentioning - the first two are both Netfilx pix - and available on DVD - and they are separated by about 20+ years in the filmography of a really good actor -
Cary Grant - 1904-1986
The first film is the earlier of the two - "
The Amazing Adventure
" - 1936 - Grant co starred with Mary Brian. This film is also know as "The Amazing Quest of Ernest Bliss." This low budget film is very watchable. Grant plays a millionaire playboy tired with the life he leads and takes a bet that he can't get a job and live a"normal" life for a year. The rest of the film is his taking on jobs and the effects and changes that happen to him and his the way he perceives life. There are some misses in acting and story line but the hits are good - overall a very watchable early film that shows the potential he had as an actor and why in a couple years of this film he was a top draw at the movies. The second Grant Film was "
The Pride and the Passion
" - 1957 - costarring with Sophia Loren and Frank Sinatra. An especially picturesque film of the Napoleonic war on the Spanish peninsular. The biggest problem with the film is the mis-casting of Sinatra and his pretty feeble Spanish accent. The story revolves around a 7 ton cannon being moved across the landscape by an "army" of Spanish peasants. As I said before the location shooting is just sumptuous but for the leads it was "names" that where cast instead of the best actor for the parts to be played. A bit predictable - and some odd moments of "thousands" of extras moving this gigantic siege cannon to oust the French - but I can certainly say it is watchable - and Loren is simply gorgeous in her low-cut "peasant" outfit. This was her second English speaking film after her breakout in the delightful "
Boy on a Dolphin"
of the same year.
The second actor I wanted to mention is -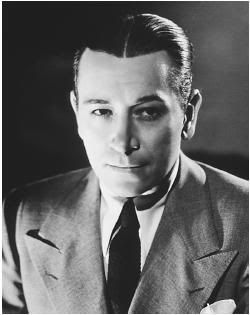 George Raft - 1901-1980
Raft is know for this gangster films of the 1930's. The two films I saw were after this period and from the 40's when he was trying to break away from this typecasting. The first film is "
Nocturne
" - 1946 - costarring with Lynn Bari and Virginia Huston. Raft plays a tenacious detective trying to solve an odd " suicide or was it murder" in this great film noir set in LA. There were tons of twists and turns in the story line -but in the end it all fell into place for a very satisfying film. Some great photography and super lighting along with a eerie musical score -what more could you ask for - sneaky dames and tough mobsters!! The second film "
Johnny Angel
" - 1945 - has Raft playing a ship captain trying to find out who killed his father and what happened to 5 million dollars stolen French gold. Set in the Big Easy there are lots of night shots and lots of "dead" ends and plot lost leads. Co-staring with Claire Trevor - film noirs bad girl - I really enjoyed this film and Trevor's "bad" girl part was over the top!! Both of these films are great to watch not for the film alone but to see that Raft could break out of the tough guy-criminal mold he had gotten stuck with playing.
In the comments Lorraine asked about "
Smart Woman
" -1931- a film I talked about a couple of days ago - this is not out on DVD, but was a copy from the boob tube. I really only have 4 sources for film - My own DVD collection, TCM (the best station on the tube), my Netfilx membership and a friend that has a set up for copying from the tube onto DVD and BluRay - his set up is very extensive and top end - and he has a satellite dish so he picks up things from all over. He makes personal "bootleg" copies of films that are not out or completely unavailable on DVD. "Smart Woman" was one of these DVD's.
There you go sports fans -thank you again for stopping by. Do come again!!
Take care,
edgar